One of the greatest cricketing start in the world Shahid Afridi is well known for his philanthropic work. He is the most charitable cricket and ranked 20th in the list of most charitable sportsman in the world.
Since his farewell from international cricket, his humanitarian activities increased at a rapid pace. Shahid Afridi foundation has been working remarkably for the progression of Pakistan communities.
On Wednesday, honor for Afridi's humanitarian work got more esteemed when he donated 100 million for the hospital construction in Thar.
The cricketing star attended an event at Sehryo arrange by a housing scheme for the affected people of Thar Coalfield. Sindh Chief Minister Syed Murad Ali Shah was present at the moment and Chairman of PPP Bilawal Bhutto also attended the event as the chief guest.
After the speeches of Murad Ali Shah and Bilawal Bhutto, Shahid showed his thoughts on Thar development. He said, "I congratulated Bilawal and Murad sahab for the construction of the Thar airport. A number of advancements have been made in Thar and I want to do my part in helping the people of Thar."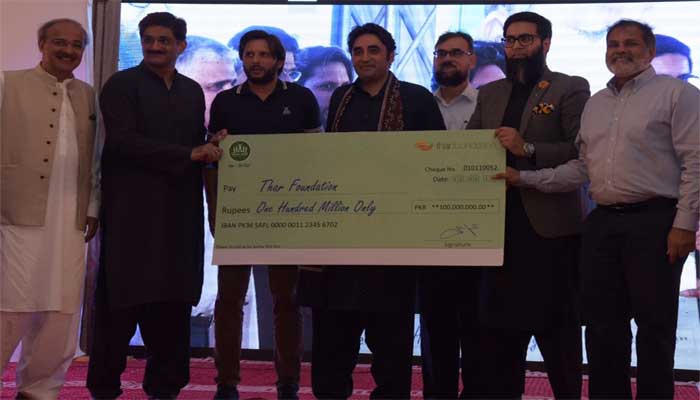 Post the speech he announced his substantial donation of 100 million for the hospital construction in the area.
Afridi presented the cheque to the CM Murad Ali Shah, Executive Director NICVD Dr. Nadeem Qamar and SECMC Shamsuddin Shaikh.
He concluded his speech with some adorable remarks, said "Now children of Thar would play cricket. I will play [cricket] with you'.